I look into the conference bundle and how the digital twins stack up
I've had a tough time being productive over the last few days. The events around the world currently are a lot to process, and as I've said before, I'm not the type to react instantly with hollow missives. I need time to think about it, reflect upon it and do some research to know more about it. I've struggled over the last few days to come up with a response here for this newsletter, to try to fully come to terms with what some are only just waking up to acknowledge. I'm fifty years old now, and have lived through a few life shocks —I don't need to bore you with the details. Suffice to say, what is currently happening is deeply troubling to me and I'm starting to form a bigger picture of where the world might go in the future, and I'm not comfortable with it.
On to administrative matters. I've decided to simplify the delivery of this newsletter and narrated podcast. There will now only be one email that contains both the text and the podcast version ensemble. You do not need to do anything to continue to enjoy it. If you prefer reading, the full text is in the email and if you prefer listening, keep pressing play as you've previously done. For those that pick up the episode through your podcast player, the show notes contain the full text as well. It's to make it easier for you to consume these essays. Additionally, in the event of another interview issue, it'll allow you to follow along with the conversation while listening by browsing the show notes.
DM me at @tfid_newsletter if you want to know more. The door is open.
On to this weeks' essay.
---
The Conference Bundle
Last week's issue was a little, shall we say, unstructured. I apologise. There was a reason. I wanted to write down what it is that makes a conference. I probably could have done a better job at explaining what the constituent parts of a conference are for starters. So I thought I'd expand upon those initial thoughts and try to give it some structure.
The conferences we know today were developed in the pre-internet era. The earliest reference I could find was the Convention Nationale of 1792 in France. The assumptions made during this development have applied to all conferences since. Get a bunch of people in the same city at the same time, mix it up and see what good comes from it. For conferences to become digital, those assumptions will be ignored, and a new digital conference template will emerge, one that is based on internet assumptions.
Looking at conferences (or conventions if you prefer), several parts are common to all meetings. Firstly, there is content. Content is delivered in different forms; presentations, Q&A, etc., the content is also an opportunity for marketing to spread its message to the attendees. Additionally, conferences rely on the physical structure and cognitive separation from day-to-day work, providing opportunities for attendees to meet, chat and learn. Many sales-oriented attendees are present simply because they know that potential clients will be in the same city at the same time. At large conferences, people often don't even attend any of the content provided; their expectations simply targeted to compress several months' worth of meetings into a multi-day conference. It saves on travel expenses and not least, time away from the office and family. Packaged together is the social aspect that tries to engineer meet-ups and new introductions —like side meetings, social evenings, corridor chats— in an attempt to enlarge the ecosystem and the potential for business for the conference hosts and sponsors. Some conferences even attract attendees to the host city without having any intention at all to attend the meetings. WWDC is an excellent example of this. The conference is typically limited to 5000 attendees with several thousand more present in San Jose during the week it is on. Again, the aim is to take advantage of the gathering of the people they need/want to meet during the conference. Lastly, most conferences have at least some expo capacity. Tens if not hundreds of vendors set up shop and promote their wares for the duration of the conference in the expo hall. It's a convenient gathering to browse and scout out new products, services and businesses.
So if you think about it, a conference is a bundle of products, and much like Microsoft 365 is a bundle of solutions for productivity or your triple-play TV/Internet/Phone service is a bundle for entertainment, the conference will appeal to different needs for different jobs to be done. And like all bundles, not all users will use all the products and services included during the week. The trick for conference hosts is to provide enough of a value for each attendee profile. I detailed the Conference Bundle in the diagram below: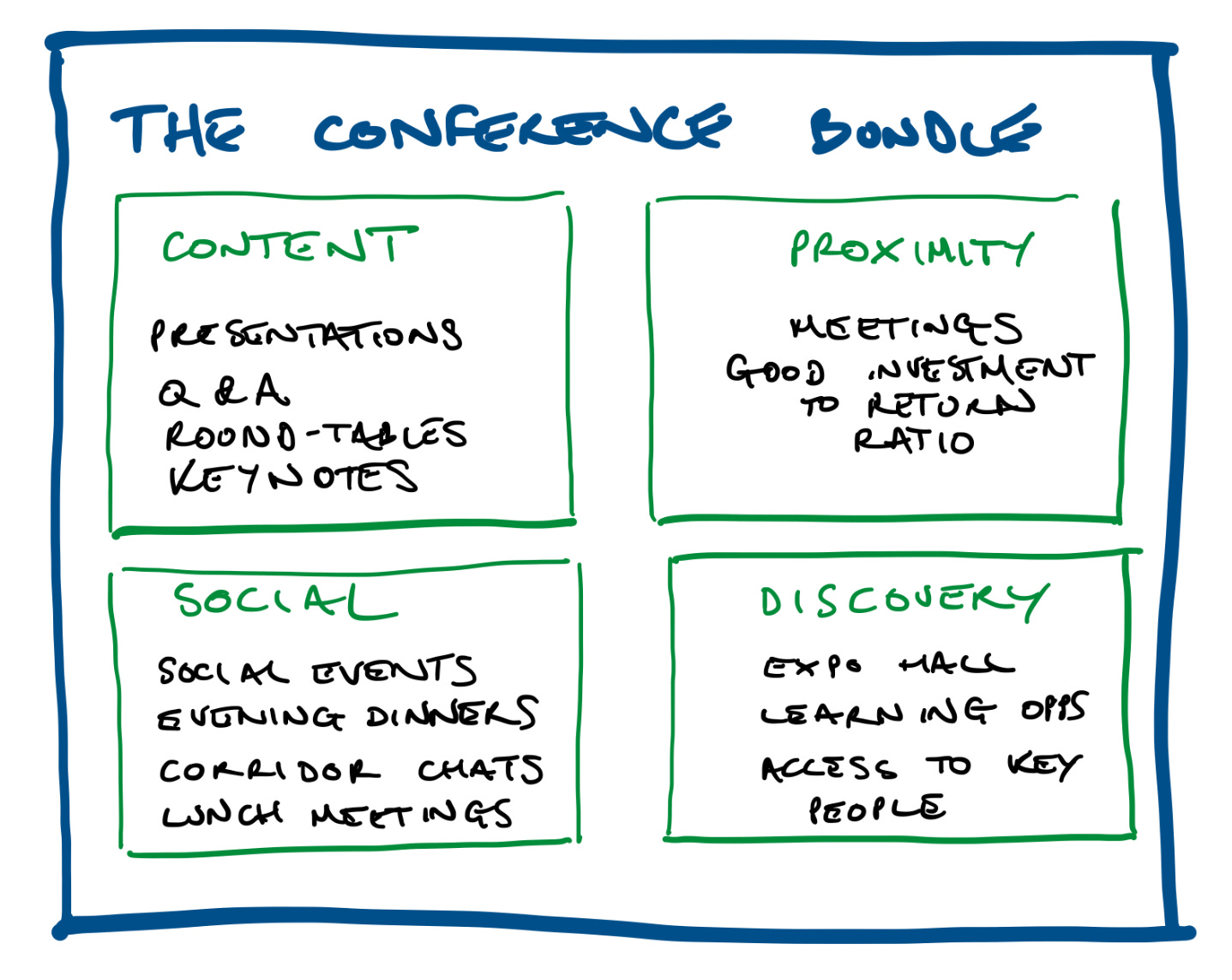 Matthew Cowen
Looking closely at each part of the bundle, it's not difficult to see that pretty much the only part that has been solved for the digital and online world, is that of content. In record-time, many conferences across the globe pivoted to "virtual" meetings very quickly. Some of the biggest and most prestigious conferences, like Microsoft Build, the WWDC as mentioned earlier from Apple, or VMworld have all shifted online, simultaneously avoiding cancellation (unlike Google's I/O) in offering more than before. I'll get to that in a little bit. The proximity problem of side-meetings has also largely been solved, in that it is easy to schedule individual one-to-one meetings during conferences. Again knowing that your colleagues and friends are attending allows this, but how is that any different than planning a one-to-one outside the conference? Does the conference itself bring value in that instance?
What has not been solved, however, is the organically generated social nature of large gatherings that attract like-minded and open-to-learn individuals cooped up in the same room. Something that, by circumstance, breeds the kind of interactions I attempted to highlight in the last issue, i.e., the impromptu lunch meetings, the corridor conversations, the sometimes-awkward socialising over vendor-provided drinks. These interactions, however brief or however staged, are part of the experience, in that they add to the value of your presence. How do we solve for that in the digital world?
Outside of the presentations and social interactions, exists the show floor, or the expo hall. This element of the bundle doesn't currently have a digital equivalent. Wandering around the expo hall, fulfils two jobs to be done. One is the exposure to new products and services, and the other is access to technical staff or to C-suite execs of companies you may be interested in learning more about. It's quite efficient when you think about it. If of course, you take advantage of it. But how do you transfer that discovery experience into digital, an experience that solves the jobs to be done puzzle?
This change in the nature itself of conferences provides some insight and ideas on their future. The most significant difference during the pandemic is not the fact that some conferences have become cheap or free, it is that their reach has widened to such an extent that the potential audience for a popular conference is now up to 4 billion people! It is also interesting to learn that even niche conferences may develop into international affairs.
Looking at the expo hall, it is entirely possible that in some instances an online expo hall could take on some of the attributes of a contemporary massive online multiplayer game like Fortnite or PUBG. The Marshmello concert in 2019 and the more recent Travis Scott show directly in Fortnite taught us that entertainment in an online setting had the potential to be just as enjoyable as in a typical concert venue. It provided a glimpse into the future of online events. You may be recoiling at the thought of this, but there's no easy way to put this, our time on this planet is limited. The generations following on from us are growing up with entirely different frames of reference, ones that are based on internet assumptions. Organisers of conferences of the future will also have those frames of reference and not 18th-century shackles in which to operate. This will free up their imagination, and when they design future gatherings, the contemporary conference will be a completely different beast.
Taking that a step further, the interactive nature of a conference, and if I'm continuing the comparison with online MPGs, players (you can substitute attendees) already use multi-channel communications in realtime. When kids play Fortnite today, those with a PS4 create a "Party" and invite each other to join. The non-PS4 players join the game too but interact using WhatsApp or FaceTime. What you get is a realtime interactive tissue, where the common interest is the game and different branches of communication join the participants. It should give designers of future conferences encouragement to be more ambitious and organic in their development.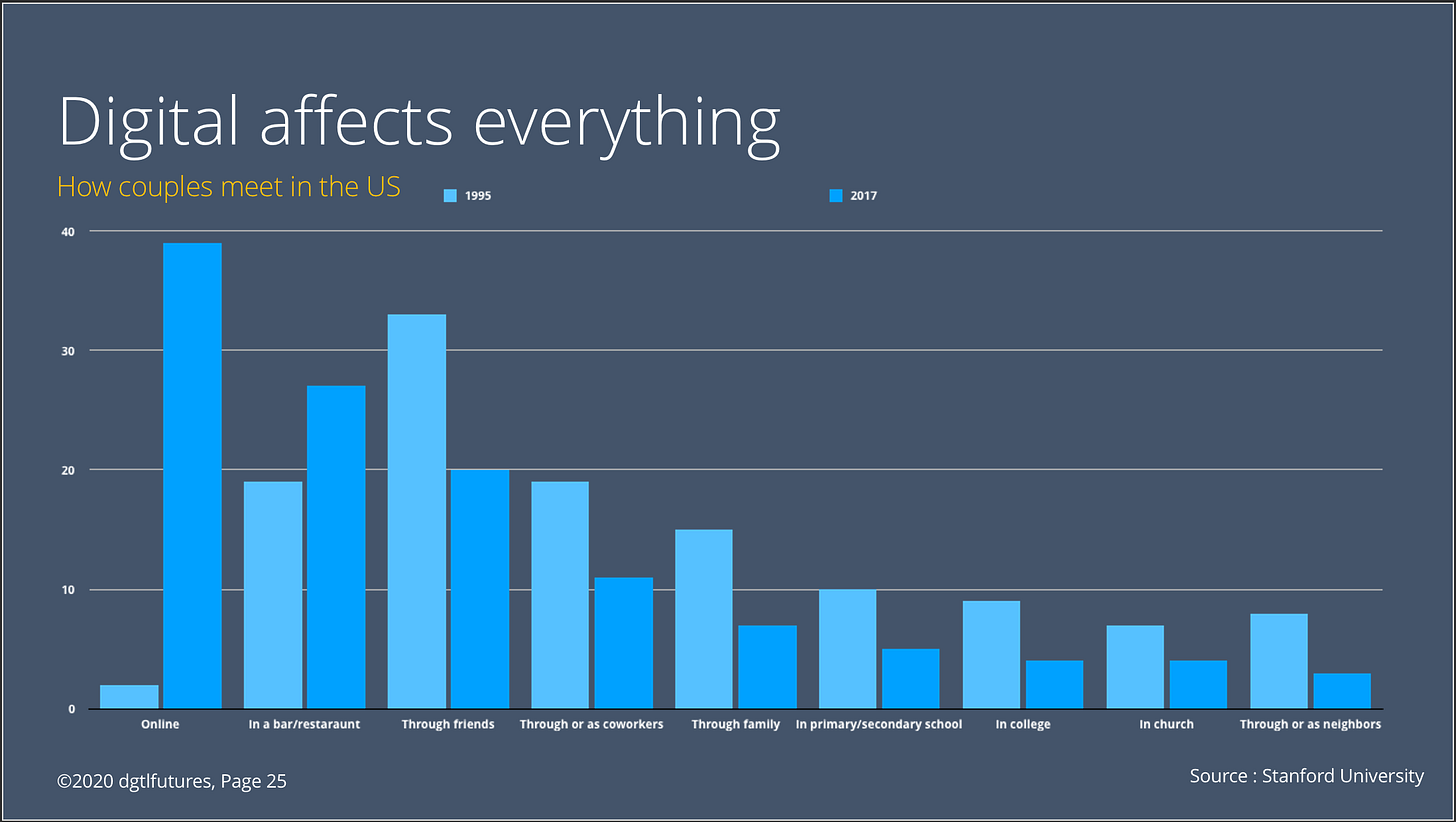 From one of my presentations
With more and more people now meeting and dating online, interestingly doing so without third-person intermediaries, is it too far-fetched to believe that this could provide a model for online conferences also? Many of the social taboos surrounding meeting on the internet have all but disappeared where dating is concerned, why not for business meetings? Perhaps future conference software may include an attendee directory that, when browsed with the relevant filtering, you could swipe right to set up a meeting?
What about Virtual Reality? For what it's worth, I don't currently believe for a second that VR will take an essential role of this new wave of online conferences. In its current form, it is just too restrictive and too cumbersome to be used in that way. The friction required to enter the virtual world is too significant, it is too uncomfortable for prolonged use and too illness-inducing for many for it to be a serious consideration. Virtual reality sickness is a real thing and cannot be ignored.
As a side note, the imposed shift to digital has, interestingly, enabled a rethink of the tariffs and reach of all conferences. Conferences are traditionally an exclusive club. The investment in time and money is too much for most people and most small organisations that would benefit most from them, and the returns on that investment too small all things considered. The opportunity cost is just not high enough to for that audience. That's why it is encouraging to see more online conferences that are either low-cost or free. WWDC, for example, is open and no cost to all registered Apple Developers. That's a 100$ per year subscription that replaces the previously stiff price tag of 1599$. Microsoft Conferences, like Build, were somewhat exclusive too. Covid-19 opened the doors to all comers, for free. A full 48-hour content package was deployed in a way that was easy to jump in and out of as needed. The benefits of a much wider audience for Microsoft was duly noted. An estimated 100 000 people took part in this years' conference. For comparison, its offline event last year attracted only 6000!
For now, I think I can safely say that in-person conferences are not a thing of the past and that pretty soon many of us are going be on a plane flying off to a convention in some far off city. But I do think that the conference experience has changed forever, and that in-person conferences will include remote participation simultaneously with in-person content, with new smart ways for us to communicate together. I can imagine a Microsoft conference that holds 10-20 thousand people in a convention centre in Florida for example, with another 100-150 thousand connecting from around the world. A convention where in-person you get to see in realtime, and dialled-in you can follow time-shifted to your preferred timezone or follow live if required, all while feeling like a full participant in the event.
Until we meet again.
---
The Future is Digital Newsletter is intended for anyone interested in digital technology and how it affects business. I'd really appreciate if you would share it in your network.
If this email was forwarded to you, I'd love to see you on board. You can sign up here:
Visit the website to read all the archives.
Thanks for being a supporter, have a great day.