Discover more from The Future is Digital
Essays about digital tech and the future of business in the Caribbean 📝
The Virtual Island Summit
WeWork's gaff and the opportunity for LinkedIn
Just released: I was a honoured to be a guest on Kadia Francis' podcast, The Digital Jamaica Podcast. You can get more details on Kadia's blog here.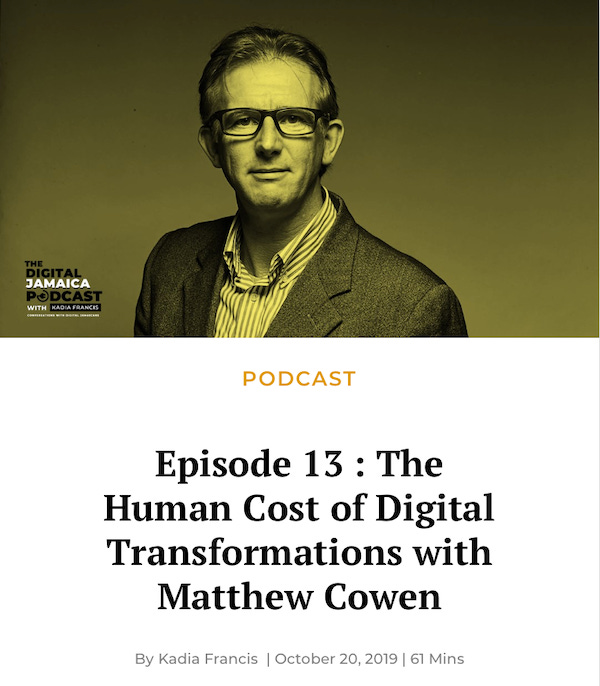 Digitalising meetings and conferences is something that is becoming evermore useful for businesses and individuals alike, I explore a couple of examples here.
On to the update.
---
Virtual Island Summit
As previously mentioned that I had attended a few sessions of the Virtual Island Summit, and as a general comment, the content was very thought-provoking and very much geared to the context here in the Caribbean. However, despite being relevant to the Caribbean, much of the content drew on ideas and experiences from around the world.
One of the first presentations was entitled Digital Social Innovation To Empower Democracy. The title intrigued me, so I put aside some time to follow the session with a little more attention than I would normally. Several things struck me as attractive from a perspective of Digital Transformation and how they weave with local contexts.
The talk presented by Audrey Tang, who is the Digital Innovation Minister from Taiwan. Which immediately got me thinking about our Islands and territories, and which have specific jobs, ministries and elected officials in that capacity.
Spending, admittedly, a short period researching, there appear to be few positions in local Government dedicated to digital, let alone devoted to topics concerning digital that directly affect the population. Most Ministers and authorities are trying to wrangle digital change in their countries and are leveraging either traditional utilities or education-focused bodies. Some have taken to promoting ICT departments, as they are "digital".
I believe this to be wrong for the reasons I've been discussing in this newsletter for months now. The element that is most important in Digital Transformation is not the "Digital"! This fact couldn't be stated clearly enough in the presentation from Audrey Tang.
Let's go back to the title, Digital Social Innovation To Empower Democracy, and break that down a little.
Democracy is not just your right to vote, or criticise your Government (quite a relevant topic currently based on what is happening in Hong Kong at the moment - avoiding that one for now though!), but it is a means by which all citizens can participate in some way towards the collective benefit of all citizens within their town, region or country.
Some things are small, others are large and have a more significant impact, but they are all crucial for democracy, in that they form part of the whole that shapes Society into what it is. I'm not going to lecture you on whether or not you should vote, but what I would say is that you should at least take some responsibility for the outcomes of your own country based on your participation.
As for Innovation, I've discussed Innovation previously in the context of Digital Transformation:
When we talk of innovation, we tend to think of the finished product, like when the initial iPhone was unveiled. It was a stunning "innovation" and completely trumped what the market at that time had to offer… in some ways. Interestingly, it is best explained by Disruption Theory, by entering a market with less features but doing the JTBD brilliantly, so brilliantly in fact, that it quickly ate up market share to the dismay of all the incumbents in the market at the time.

But innovation isn't the product, innovation is the process. And, innovation doesn't have to produce a physical product at the end of the process, it can simply be a better way an organisation works internally, for example something as simple as better stock management in the warehouse. To cut it down to its basics, innovation is any change in a business process, or product/service that adds value. Innovation is similarly, not limited to the development of something new and exciting, it can be an incremental change that produces better outcomes for the organisation. Lastly, innovation is a continuous process. Once you have innovated, the work doesn't stop there. Remember, the new new becomes the new old very quickly in these times!
Lastly, I think the essential element in the title is Social. Although it goes hand in hand with democracy in this context it was necessary, in my view, to single out this aspect in the sense that what the title actually says is that Taiwan was using digital transformation tools and technologies to help society as a whole, through participative projects, contribute to the development and betterment of the country. And when you listened to some of the projects presented, it is precisely what happened.
Take some time to watch some of the debates and presentations on the YouTube channel; I think you'll find them valuable to your own Digital Transformation. I'll be writing up the others over the coming weeks too.
---
WeWork's gaff and the opportunity for LinkedIn
LinkedIn, owned by Microsoft, has announced that its platform is to receive several new features this year, most notably features designed to help recruiting and job seeking. But one features caught my eye as it is a Job To Be Done already filled by several platforms and social networks, that of event planning and organising.
LinkedIn Events, the new tools from LinkedIn, allows users to create and participate in professional events around the globe when it is fully rolled out. Currently, it is on trial in NYC and San Francisco but should be rolling out to more cities around the world in the future, with English speaking countries first. Slated to work similarly to Facebook events, LinkedIn Events is more focused on professionals and associations, focused on helping them organise and plan an event for both local and remote participants using the segmentation tools of the platform, Industry, Company for example.
It comes at a very opportune time, as the giant of the meet up social networks, Meetup, made a strategic error that may cost them their business entirely.
From Forbes:
WeWork-owned Meetup, an app that allows anyone to create and attend events, may start charging some attendees $2 per event, a change that's already drawing criticism from event organizers who say the pricing model will force them to ditch the app and shut down their groups.

The policy, introduced as a test for some groups in late September, requires anyone attending a Meetup event to pay $2 when they RSVP. Organizers have the option of covering the cost of each attendee themselves if they don't want to charge participants.

Event organizers already pay a membership fee to list their events on Meetup. The policy would also lower that fee to $24 per year from up to $200 per year.

Meetup is positioning the change as a reduction in costs for organizers, but some say if they choose to cover the $2 themselves, they'll end up paying more than $240 per year, making the app unaffordable.

Some groups have upwards of 200 members, and organizers say they don't want to exclude people who might not be able to afford a fee, especially if that group meets multiple times per week. 

Meetup users slammed the changes as an effort to squeeze more cash from the app as its owner WeWork faces financial challenges following the cancellation of its IPO. WeWork may also be looking to sell off Meetup altogether.
WeWork subsequently did an about-face, "clarifying" that this was simply a limited-reach test and that no final plans to change the current pricing structure. But this announcement highlights the dangers of digital platforms where, once they become all-powerful from the network effects, they can attempt to dictate the rules of the game. Users were quick to remonstrate, and it was this dissent that promoted a statement from Meetup CEO David Siegel to that effect.
But the damage has been done. And many of Meetup's members are already looking toward other platforms, which is where LinkedIn slots in nicely and in some respects, LinkedIn is a better platform for this type of offer. Not only does the platform have rich information on the professional lives of people, but the value of being seen to participate in the community, regardless what that community is, is increasing as a differentiator to potential employers and a value proposition for prospective employees to display.
---
The Future is Digital Newsletter is intended for anyone interesting in learning about Digital Transformation and how it affects their business. I strongly encourage you to forward it to people you feel may be interested. If this email was forwarded to you, I'd love to see you onboard. You can sign up here:
Visit my archives website to read all my articles and continue the discussion in the Slack group.
Thanks for being a supporter, have a great day.