Microsoft Ignite The Tour London 2020
A Show Report
A slightly different tack to the issue today. A quick report back on the Microsoft Ignite The Tour London conference.
On to the update.
---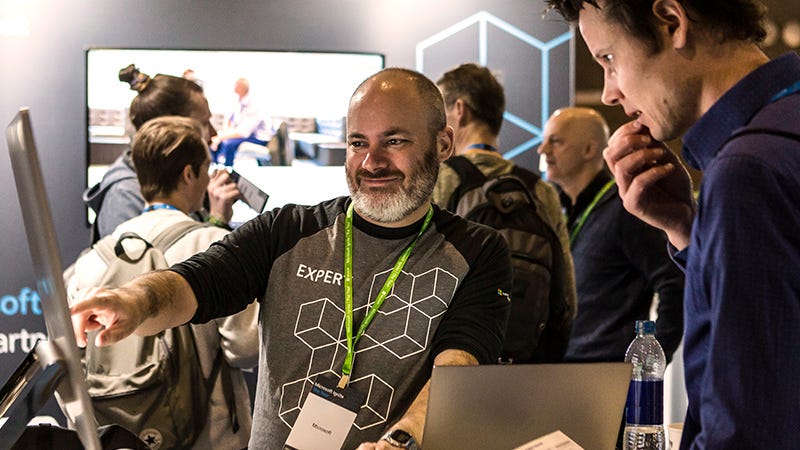 Image: Microsoft
As a long time attendee of conferences and particularly Microsoft conferences (with thanks to a previous employer) I am concentrating on giving feedback on a recent meeting I was at in London earlier in January.
Microsoft's future directions in Digital Transformation
To summarise briefly, the main subjects and points of focus for Microsoft when we're talking about Digital Transformation, it would come down to three things; Collaboration, Automation and Artificial Intelligence.
Collaboration
While I spent my time on the first day furthering my interest in AI and Automation (see below), the second day was primarily related to collaboration and the human side of technology.
One of the first sessions on the second day, called Intelligent Communications in Microsoft Teams, focused on the possibilities of better meetings, device and telephony integrations. Microsoft Teams focuses on meetings, chats, calling, files and App/Workflows neatly integrated into a single interface that is both efficient and enjoyable to use. Microsoft is setting aside substantial resources to improve the environment and capabilities of the Teams platform.
I've written briefly about Teams and how it fits in with Microsoft's vision of Digital Transformation here:
Which brings me to the state of collaboration today. What we see today is specialised collaboration and productivity being developed that take us away from the general-purpose collaborative apps we have now. There are myriad applications for collaboration, but the two most popular and most known are Slack and Microsoft Teams. If you want to know more about them, search for reviews online. Suffice to say that both claim several millions of Daily Active Users (DAUs).
In the series of 5 sessions dedicated to Teams — of which Intelligent Communications in Microsoft Teams was te second — the introductory session was just as interesting and useful.
Albeit a rundown of new features in Teams, as I stated earlier, Microsoft is putting many resources towards the development of Teams, and in some cases, it is hard to keep up with all the changes. This session neatly exposed the newly released functions like Private Channels (something I had requested over a year ago) and cross-channel posting, enabling one post to touch several channels simultaneously.
Another feature that raised a lot of applause was Live Captions. Currently available in test and only in English, Live Captions displays, in realtime, the conversations in the current meeting. This is an excellent enhancement for those hard of hearing, or people attending meetings conducted where English is their second or third language. More languages are planned for the future. Note: captions are not saved and hence not searchable for the moment — recorded meetings are searchable and you can literally search for your name (for example) and the results will show you the timestamp of the video where your name was mentioned!
The new functions coming "soon" were additionally listed; pinned channels, multi-window support, Outlook integration, Yammer integration and Tasks. These are all additions that make sense and enhance the usefulness of Teams to the point that the platform becomes the place you start and end your workday. 
It is this that intelligent collaboration is becoming. It is a wise move on Microsoft's part, as not only does it make work more efficient for business but it also slowly builds a moat around the Office 365 business that Microsoft has judiciously built over the last five years or so.
Something that I find fascinating as a long time Microsoft expert, is that, unlike the Microsoft of yore, they are listening to their users and trying to implement JTBD theory in all their public-facing applications.
Automation
Automation featured heavily in this tech conference, understandably. We've seen nothing short of a revolution in automation over the last few years with pioneers in the democratisation of tools, like IFTTT (If This Then That), Shortcuts on iOS and Zapier a more professionals oriented system.
Microsoft's answer to this is a previously available product that was both underused and underexposed by itself, namely Microsoft Flow. That has changed in the last year. To demonstrate Microsoft's renewed focus on the product, Microsoft has renamed it to Power Automate, leaving no doubt in its purpose; to powerfully automate business processes.
As part of the Power Platform, Power Automate allows the linking and automating of processes from different applications, and this is not limited to the Microsoft ecosystem (a clear signal that things have very much changed in Redmond). The session entitled "Intelligent automation with Microsoft Power Automate" laid-out the return on investment seen by McKinsey, recorded as 5-10% cost savings in 18-24 months and 30% long-term.
A McKinsey report highlighted the opportunity for businesses to investigate automation in their operations:
60% of all occupations have at least 30% technically automatable activities

Almost half of work activities globally have the potential to be automated using current technology.

Collecting and processing data are among the activities with the highest automation potential.
By focusing on this potential, Microsoft has developed its Power Platform to target this specifically. The Power Platform presents itself on two levels, the user-facing applications; PowerBI (Business Intelligence and Visualisation Tools), Power Apps (A DIY Application Development Tool) and Power Automate; the underlying back-end to connect data to the upper level with data connectors to over 250 applications, AI Builder (see below) and the Common Data Service to provide almost everything needed for automation in a low-to-no code environment.
Being Microsoft and being squarely aimed at enterprises, areas such as distribution, security, governance and compliance are integrated by design. Additionally, it is essential to remember that this functionality is built right into the Microsoft Teams collaboration platform, making it easier and better for deployment to non-developers in organisations.
Start here to learn more about the tools in the Power Platform.
Artificial Intelligence
One of the very first sessions of the conference centred on the use of new AI tools with little to no programming, to extract value from unstructured data. While the scenario was a bit contrived, the session did an excellent job of showing how it is possible to use these tools easily to construct useful information.
The scenario was an invoice database that had been deleted and not backed up, but a copy of each invoice in PDF format was available. Using Azure Cognitive Services, the presenter was able to reconstruct and populate a new database using the PDFs from what is termed "dark data", i.e., data that is human-readable but not machine-readable (easily).
Training a simple AI model with just five invoices allowed the extraction of relevant data (invoice number, date, product, quantity, price and others) in a structured format that was subsequently used to populate the previously deleted database.
It was a nice example of how multiple thousands of data points could be worked on automatically — the case study had nearly 150000 pdf invoices — and in around 24 hours, the data accurately extracted. Take a look at https://aka.ms/AIML10 for further information.
Further sessions went into more detail about the use of these new Cognitive Services in Azure. One session used the pre-built AI models in Azure to further outline the usefulness of the product in saving time and investment in specialised AI development.
Microsoft clearly thinks this is an area of clear advantage to its partners and end-users ultimately. We see AI creeping into everyday products like Microsoft Word and Microsoft Powerpoint. Microsoft Word will now create a basic resumé from your LinkedIn profile and suggest enhancements based on the cognitive models it has developed over the last couple of years and the metadata available through their ownership of LinkedIn. Note: this is opt-in, and no information is used, to my knowledge, without consent. Powerpoint can suggest styles, shapes and overall design of a slide just by looking at the content. For the artistically-challenged, this is a great help.
AI is also extending itself across the collaborative platform, Microsoft 365. Users can be configured to receive emails from the platform entitled "MyAnalytics | Wellbeing Edition".
This email gives you an overview of who you have been working with regularly, how much times you're spending in meetings, the time you've been collaboration and what it calls Focus Time (time free from meetings on your agenda), along with suggestions on how you can improve your wellbeing at work. It is relatively rudimentary, but a start and in some cases, I have found it useful.
We can expect more to come.
Humanity in IT. The other side of the conference
Microsoft left much space in the agenda catalogue for initiatives around IT being a more humane discipline, something that has not traditionally been the case for big tech. One could argue that the big tech companies are anything but concerned for human wellbeing and only concerned about monetising humans for every last drop of information, often termed Surveillance Capitalism.
Microsoft's renaissance has been powered by a profound change in its corporate governance. Out went the macho, stormy, loud character that was from a bygone era, Steve Ballmer, and in came the more considered, empathic and reasoned disciple of Mindset. It's a good read, I recommend it.
Suffering personal difficulties, Satya Nadella has not hidden from addressing the need in IT to be more inclusive and more empathic to the people whose lives it touches daily. Looking at some of the titles in the session list gives you an idea of where Satya wants to take Microsoft; "Practising Kindness in Tech: 5 Steps to Build a Culture of Giving Back and Helping Others in the Community", "Imposter Syndrome Banishing Spell", "Learning from Failure" and "Creative Technology - Bringing the Human into IT" (session not recorded).
It's a list you would more likely associate with penny store wisdom books rather than a tech conference, but hold judgement for a moment and reflect on why subjects like these are important.
Much of Tech today has an existential crisis, as users, the world over discover the extent to which lives are surveilled. Usage statistics on the proliferation of ad-blocking technology alone speaks of a world that wants the conveniences but doesn't want the downsides.
This cognitive dissonance only fuels the attitudes that have invaded civil discourse on the Internet on forums and micro-blogging sites like Twitter. A few years ago, it was widely joked that the quickest way to come to the conclusion that humanity was doomed was by reading the comments sections on the Internet. Fortunately, we haven't got there yet. Yet!
In Practising Kindness in Tech: 5 Steps to Build a Culture of Giving Back and Helping Others in the Community, Dux Raymond Sy outlined a simple framework for IT professionals to use their skills and knowledge to help out in their immediate communities. Setting up PCs for a local group, supporting IT problems for local non-profits, the list of possibilities is endless. And it's a virtuous circle too. Not only does someone get to benefit from your work, but you get to feel good for doing so.
I'm currently a bénévole (volunteer) for ADIE; Association pour le Droit à l'Initiative Economique, where I help advise underprivileged startups build their business. I am also on the list of entrepreneurs that visit schools to talk about my experiences in business, through the initiative called 100000 Entrepreneurs.
---
The Future is Digital Newsletter is intended for anyone interested in Digital Technologies and how it affects their business. I strongly encourage you to forward it to people you feel may be interested. If this email was forwarded to you, I'd love to see you onboard. You can sign up here:
Visit the website to read all my articles and continue the discussion in the Slack group.
Thanks for being a supporter, have a great day.