Discover more from The Future is Digital
Essays about digital tech and the future of business in the Caribbean 📝
Issue 11 : Part 2 - Practical steps towards your Digital Transformation journey
Continuing the analysis
Good day.
I'll get straight in to this week's topic, with the idea being that it is a continuation of what I started last week. This is the second instalment of a series designed to directly and practically help you with your own Digital Transformation. On to this issue.
To get the best out of this Issue, I recommend reading Part 1 first.
---
Last week we looked at a simple but effective framework tool, the PESTEL, that is designed to give you a broader look at the market around you and the issues that may or may not affect your business. This issue takes brief look at Michael Porter's Value Chain model. I've talked about the value chain previously, and how it needs to be taken in to account when designing products and services, so I thought I'd develop exactly what it is here. Whole books have been written about the subject, but as the tool is fairly simple to use at its most basic level, it's worth learning and using regularly.
Investopedia defines the Value Chain as:
A value chain is a business model that describes the full range of activities needed to create a product or service. For companies that produce goods, a value chain comprises the steps that involve bringing a product from conception to distribution, and everything in between—such as procuring raw materials, manufacturing functions, and marketing activities.

A company conducts a value-chain analysis by evaluating the detailed procedures involved in each step of its business. The purpose of value-chain analyses is to increase production efficiency so that a company may deliver maximum value for the least possible cost.
Essentially, Michael Porter's Value Chain model allows you to break down your business into sections and attribute to each section their relative value and contribution to the end result, the value add of your products and services. As an example, someone who sells fruits and vegetables may have a fairly simple value chain where elements like logistics and marketing are the principle value creators of the business. A product like Apple iPhone, I think we can all see, is a very different proposition, with and extremely complex value chain.
The value chain is represented as a graphic where all the distinct parts contribute to the right-hand side, which is the profit. This graphic shows the most common representation of the value chain: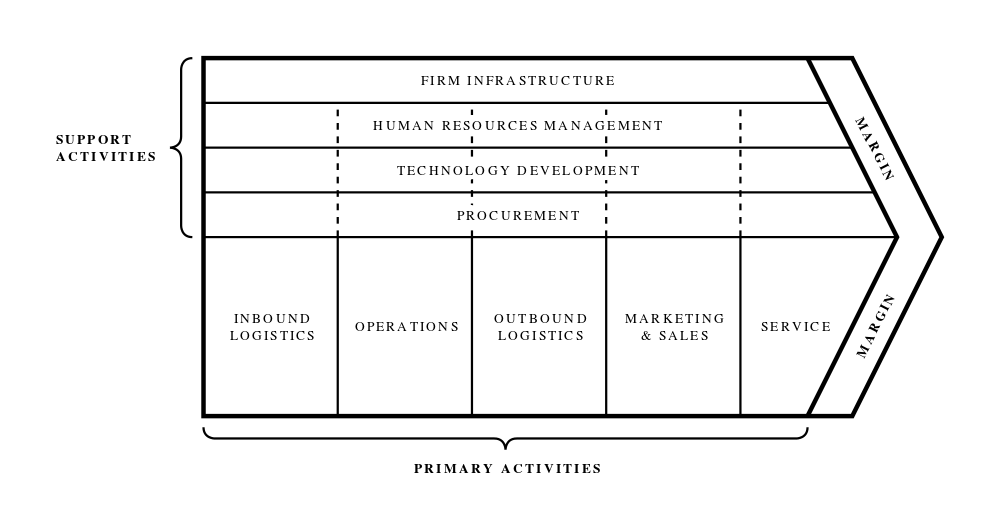 Denis Fadeev CC BY-SA 3.0 (https://creativecommons.org/licenses/by-sa/3.0)
There are two distinct sections; Support Activities, Primary Activities that are in play in any business that generate value helping generate revenue, and hence margin.
---
Support Activities
Support Activities, as the name suggests, are all the activities in a business that are required to assist and make more efficient the primary activities of the business. Michael Porter broke them down in to four sub-sections:
Firm Infrastructure: Consisting of business elements such as Accounting, Finance, Legal, PR, General Management, Facilities Management, Security, etc.
Human Resources Management: All elements of hiring, firing, on-boarding, training, personal development, salaries, etc.
Technology Development: Includes Computer hardware and software, networking, IT support, etc.
Procurement: Buying goods and services for use in the day to day running of the business and additionally parts that make up the finished product being sold to the final client.
---
Primary Activities
Inbound Logistics: Inbound Logistics receives raw materials, stocks them and deals with inventory, aiding the operations activity to become more efficient.
Operations: Unlike the Support Activities that can be loosely defined as Operations, these are the operations required to transform the product or service from the raw materials to the finished product, often manufacturing etc.
Outbound Logistics: These are the activities that fulfil an order for the customer and usually include stock and warehousing, distribution, reseller networks, final mile delivery, etc.
Marketing and Sales: Marketing and Sales are there to get the customer to the sale stage in the pipeline. That includes segmentation, marketing, online influence and presence, advertising, pricing, etc.
Service: Service is the activities required to support and maintain the product or service after its initial sale in a way that enhances its long term value for the customer. That can be online help, repair, servicing, etc.
To best utilise the model at first, it's important not to get too deep into dissecting the entire business, start with one important product or service and break that down. Repeat the process with others, by creating multiple value chains. From there you may be able to identify similarities and synergies between products and services. I'll talk about what to do at this point in the future.
You should be careful to not think only of the pieces that you do well, in fact much of the value obtained by this analysis is derived from mixing the exercise with the SW parts of a SWOT analysis. To recap, SWOT is Strengths, Weaknesses, Opportunities and Threats.
Honestly looking at the strengths and weaknesses of your business and where they map to the value chain, either as Support Activities or Primary Activities, will be crucial in the next stages of determining your digital strategy going forward.
---
Here's a quick representation of the above discussion I quickly put together using PowerPoint: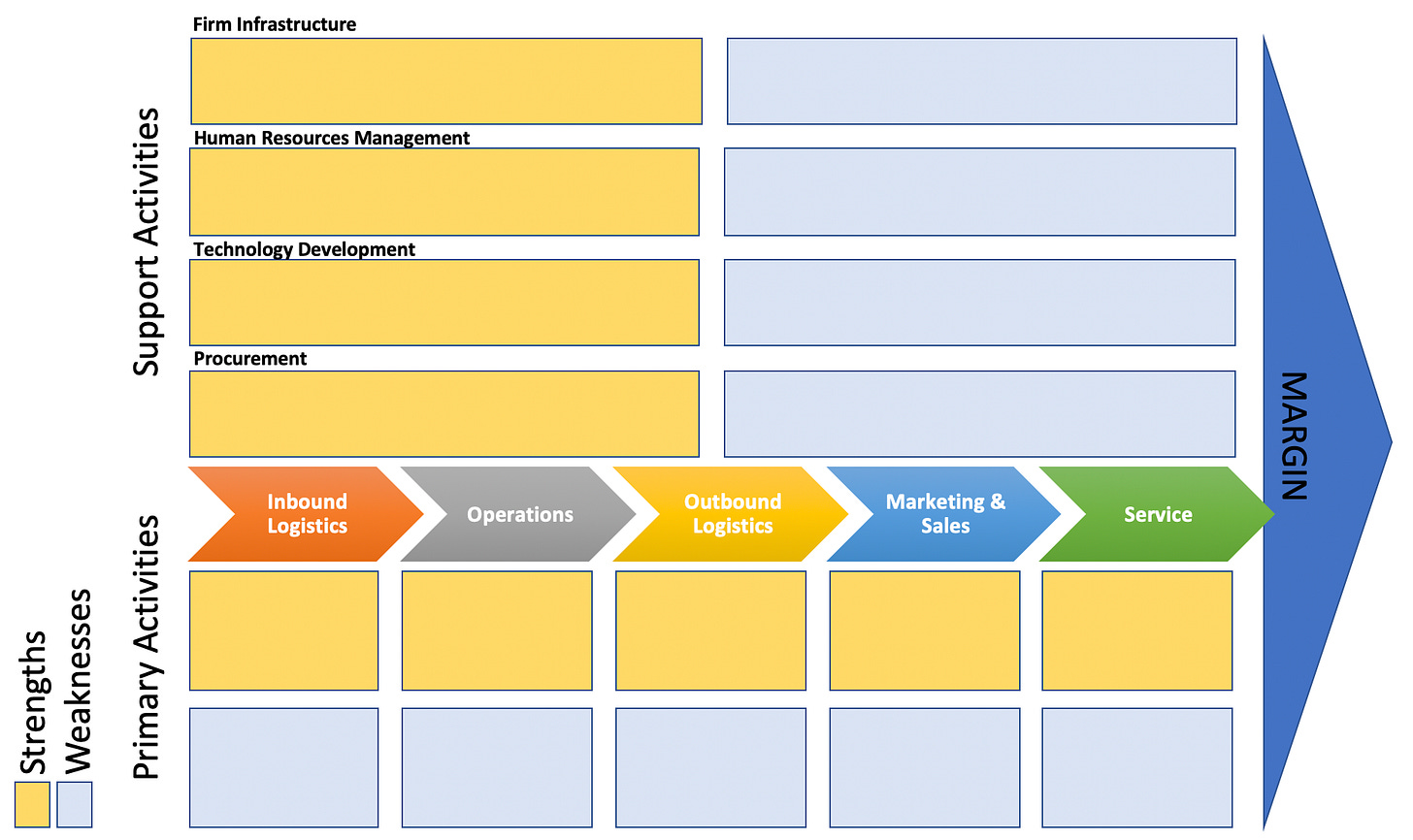 For further reading on the Value Chain, I'd suggest reading Competitive Advantage: Creating and Sustaining Superior Performance, Michael E. Porter, he additionally introduces his Competitive Forces Model, which is also useful to determine the viability of one market or another.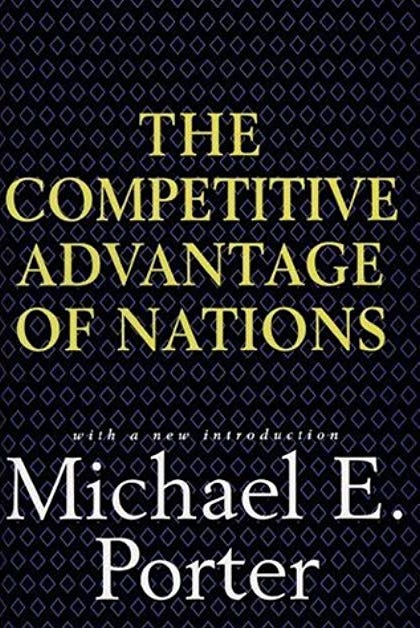 ---
I'd be honoured to help you in your own Digital Transformation journey. Hit reply to this email if you would like to discuss further.
---
Reading List
CTU 30th anniversary: FutureScape to highlight achievements in Caribbean - CARICOM
Caribbean FutureScape, a technology immersion event, is the first ever being staged in the Caribbean, and will take place from 29th April to 1st May 2019, at the Hyatt Regency, Port of Spain, Trinidad and Tobago.
I'll report back on what the main takeaways were from the event.
One Year In: How our $5B investment in IoT and intelligent edge is accelerating customer, partner and solution innovation - The Official Microsoft Blog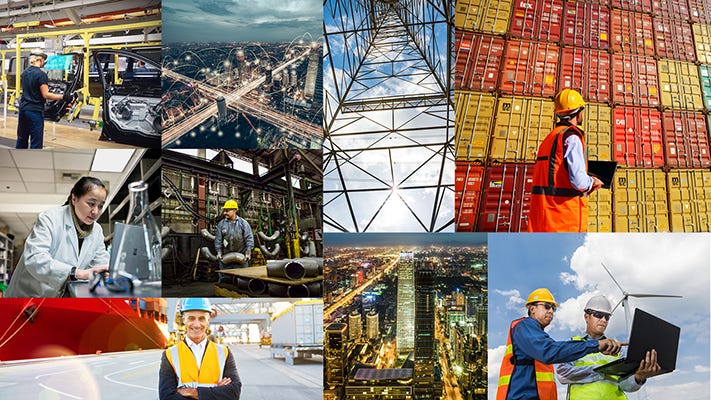 IoT and Intelligent Edge technology, I believe, is one of the most important parts of the Digital Transformation process. You need to measure, and measure what matters, to take better decisions based on analysis of data collected.
Caribbean voices rising in global Internet governance - SightLine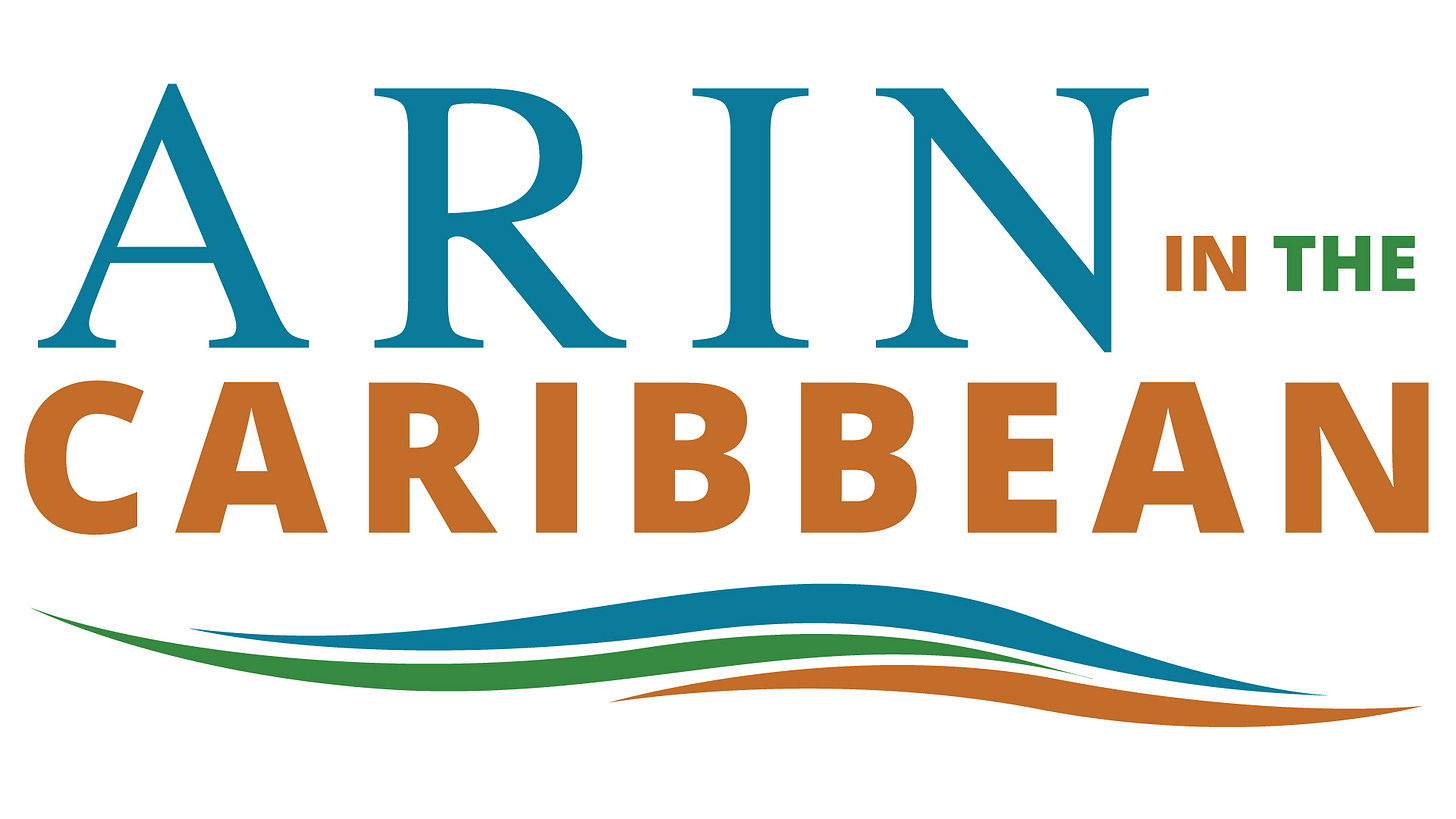 If you're searching for the next wave of Internet development to come from the Caribbean, an international conference recently held in Bridgetown is a good place to start. Hosted by the American Registry for Internet Numbers (ARIN), it gathered Internet stakeholders from across the Caribbean and North America for high-level talks under the theme "Caribbean priorities for the global Internet," from April 10 to 12. 
---
The Future is Digital Newsletter is intended to be shared as widely as you see fit, and I encourage you to forward it to people you feel may be interested in these matters, CEOs, Business Leaders, Influencers. Thank you.
Thanks for being a supporter. Best regards.